Brendan Patrick Pole
23 September 1962 - 8 August 1991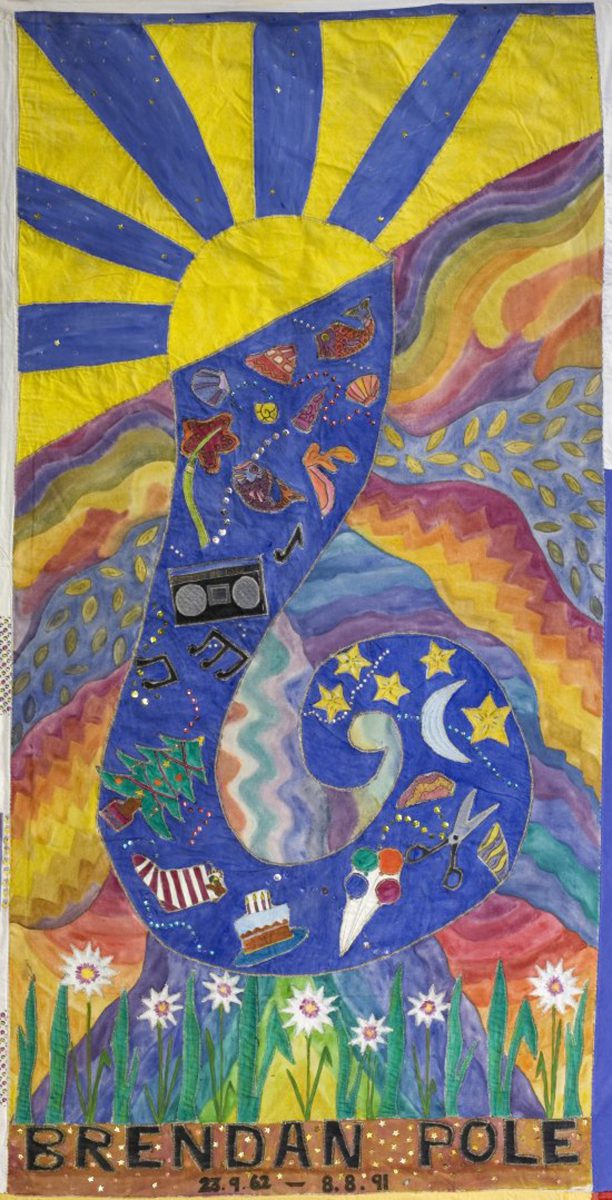 From the stories folder that accompanies The Quilt to displays:
---
Watching Brendan take his last breath and taking my time to say goodbye to him was an experience of immense power – so beginning the quilt became an extension of a beautiful and intimate goodbye.
I never expected to be moved in such a way, let alone stand in pride and loving adoration of the symbol of my love for my brother.
It was like every feeling oozed from me onto the quilt. I felt like I had connected to a spiritual level that words cannot express. I was able to begin to acknowledge my pain and emotions as well as his.
As the quilt developed so too had my healing begun.
I am grateful and very humbled at being able to express my love and loss in this way. It was probably one of the most beautiful expressions of grief I have ever and will ever experience.
The beauty of the quilt reflects the beauty of a man I will never forget and always love.
Cathy Pole (Brendan's sister) 7 December 1991
Elsie added this memory of Brendan in December 2014
Brendan and I went to Mahurangi College. We lived together as Boyfriend and Girlfriend for a while. I had a schoolgirl crush on him. I was sent to Boarding School and when I finished Brendan attempted to ask me out, actually was very insistent. Eventually, I relented and my mum/foster and his friends made a special weekend for us to be a couple.
I should have known then that this should not have been his preference. I have a laugh thinking of it now. He placed a hickey on my neck to consummate our intimate evening and I did not understand any different.
I lived with my family in Remuera, he courted me when he started out as an Apprentice Hairdresser at the Rogers Unisex Salon in Parnell. We celebrated my 18th Birthday and I still remember when he used to come and see me there was always a surprise. One day he would have long hair, the next it would be blond, then the next he would have a long plait with beads hanging from the front of his forehead then one time he was wearing a hat. I asked him to take it off, he was completely bald. That was Brendon, we lived together in Parnell.
After eight months I was so in love with him, he eventually told me we were not meant to be. I told him then he should try and go out with the same sex as I realised we were not compatible, I believe that we were not having an intimate relationship but the best brother I could ever have.
We had a boarder called Kimi. I moved out and I use to come over all the time to see Brendan but he would push Kimi towards me and tell us to go out. After six weeks of constantly going over, Kimi and I became a couple, our first son was conceived at this moment and so we named Brendan as our son's Godfather. Brendan was present at our son's Christening as a Ratana at Greenlane where Brendan lived with us for a short time.
I have a photo somewhere of him with a girl he was seeing called Bubba. He did have a photo of our son but I have never found out if he still had that photo. I know that he married another Maori Girl whom I knew as Sharee but am not sure what became of that marriage. I know he had a son called Thomas which I was so proud of hearing.
I use to call Brendan at his Salon in Panmure to have a chat. Once a year but I didn't call for two years and when I did I was told that he died from Prostate Cancer. They were very abrupt on the phone and not very helpful. He was my best friend, my first love, my brother whom I didn't get to say Goodbye to and I mourn his departure for so many years. Both Kimi and I were his close friends till he married and made another life away from us.
I flew to New Zealand from Australia and visited Puhoi, I visited the family home but no-one was there. I went to the Puhoi Pub asking people if they knew of him, I copped a mouthful of vile and insults from an elderly patron. I went to the cemetery with flowers to place on his grave. Not knowing which one was his, tears streaming down my face I called out to my dear friend throwing flowers in all directions saying "Brendan, I am sorry I wasn't there to say goodbye, I love you and will always miss you". A Sun Shower Rained Upon My Head and to me, that was my dear friend acknowledging that he knew I was there.
If I could say this, He was and still is my dearest and most loving friend. I would love to catch up with anyone who knows and loved him like both Kimi and I do. I am still with Kimi and we are Married with Four Children and Three Grand Children, one on the way. We have lived in Australia for nearly 30 years but our friend was and always will be part of our young adult life.
RIP Brendan, I pray to you always,
Arohanui
Your Friend
Elsie xoxoxox
Memory from Michelle Peters
Added April 18, 2021
In response to Elsie's memory:
Hi, I happened to come across this page. My husband Gus and I owned the salon with Brendan and would love to catch up.
Add a memory to this panel
If you wish to add your memories to this page, please get in touch.