Gary Francis Armiger and Alan Gunderson
20 January 1942 - 8 January 1990 and 11 October 1933 - 30 August 1990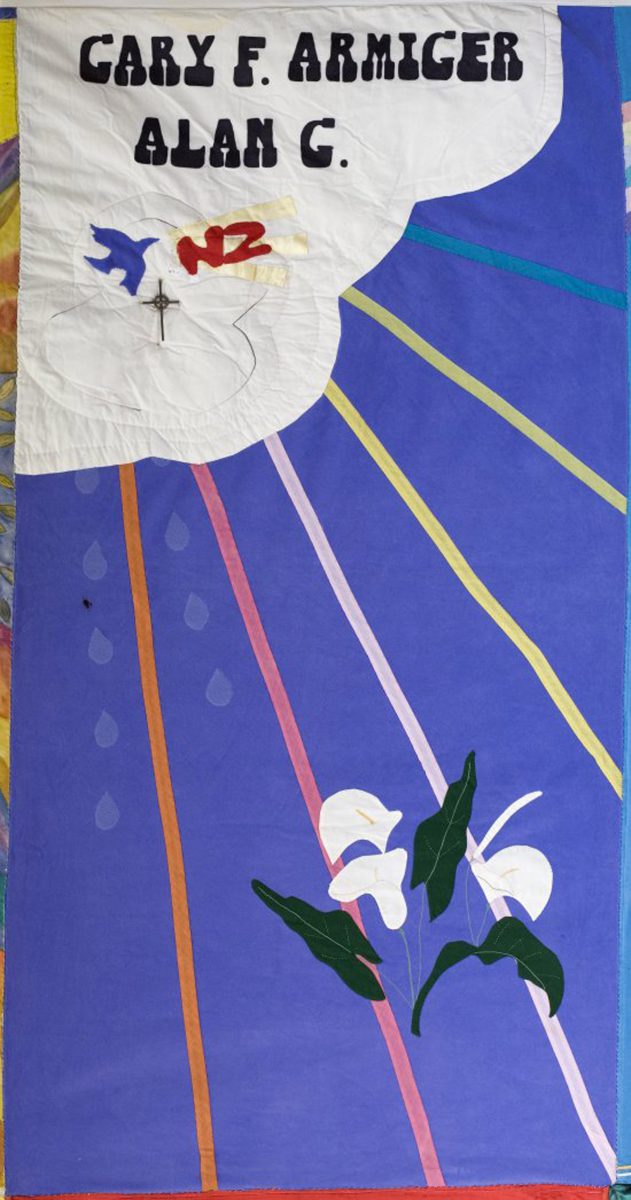 From the stories folder that accompanies The Quilt to displays:
---
This panel was created for Gary and Alan who were such good friends they had purchased a home together even though not partners and died within months of each other.
Although not directly worked on by Gary's family much of the panel reflects their input – his love of lilies, the clouds with rays of rainbow colour, the tears – their tears, the suggestion to include Alan on the panel, the cross of Gary's. The aeroplane and "NZ" were added to indicate how much they travelled – particularly to South Africa where they both lived for many years.
Alan loved concerts and went often with friends. His passion was the theatre and music, of all kinds – from modern rock operas to jazz to classical. He was a designer of women's knitwear for Glengyle for many years. He was a reserved, caring and gentle man who was welcomed into and very much became a part of the Armiger family.
Gary was a hairdresser who trained under Monty Winter, enjoying his hairdressing for many years. However, he was a traveller for Bendon when he died. He had a quick sense of humour which forever had his friends laughing. As "the life and soul of the party", he was often outrageous and, certainly, poured the best martinis in New Zealand! He also had a quieter side which made him a good listener who offered reasoned and supportive encouragement to his friends.
Both Gary and Alan enjoyed the finer things in life. Included among their most treasured possessions were dedicated, loving relationships with special friends and Gary's family.
They are still missed every day.
Memory from Andrew Ainger
Added June 29, 2021
Hi, I have very fond memories of Gary. When I lived in the Batchelor's Hotel in Pretoria South Africa we had some great times. I have been unable to locate anything about Gary since I left RSA in the late 1970s! I have looked many times but this is the first time that I feel I could have found him!
Anyway, there were four of us out there and he was very kind and helpful to all of us and, if possible, I would like to say a belated 'Thank you' to him for all his support and help. We spent most of the time in Pretoria (he was a great Party-goer and Poy-dancer! ) but we did venture out to Durban too. The four of us, (in Gary's car) also ventured to one of the Game Reserves but that's another story, and the parties as well! 😉
EDITOR'S NOTE: Andrew has asked if anyone would like to share any further info about Gary – they would really appreciate learning a little more about the other parts of Gary's life. Feel free to leave a memory below and we can let Andrew know to check back on the page.
Add a memory to this panel
If you wish to add your memories to this page, please get in touch.