John Chorlton
22 October 1963 - 27 February 1997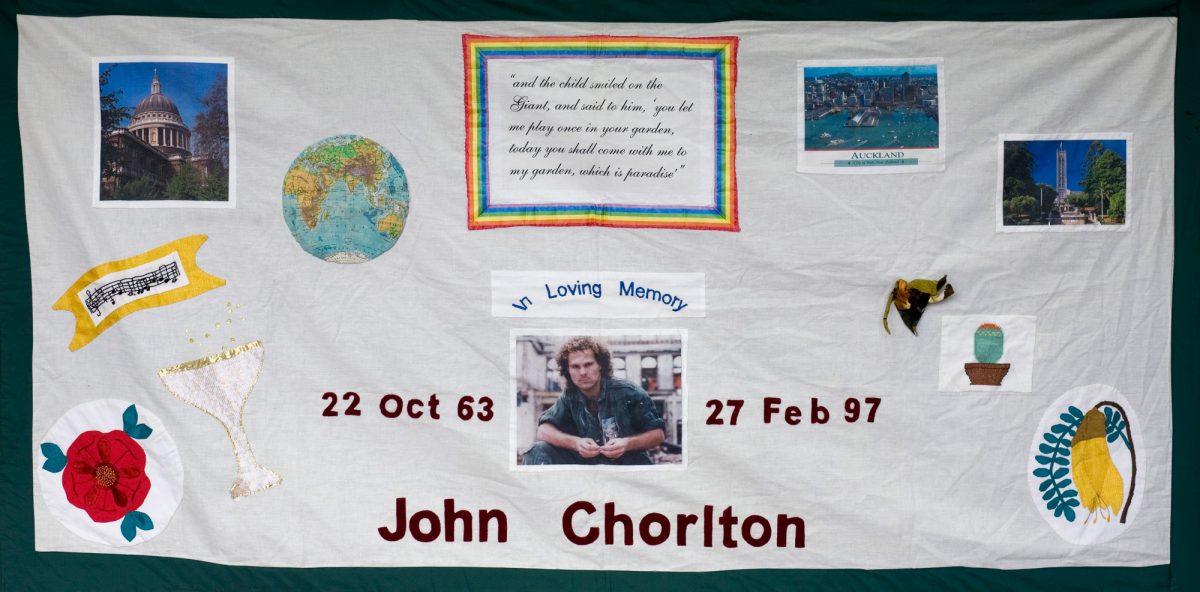 This Panel is still to be joined to a Block of the New Zealand AIDS Memorial Quilt.
---
John, the second of three boys, was the oldest of identical twins, born in Nelson and growing up in Auckland before heading overseas where he spent the rest of his adult life.
While overseas, John based himself in London from where he travelled to over 40 other countries, especially in Asia and Africa. While not travelling, John enjoyed gardening, especially cacti, and it was hard to hold him back from a party. Another favourite pastime of John's was origami.
All of these interests in John's life are depicted in his panel with the cactus, origami crane, wineglass and map of the part of the world where he did most of his travelling, with China being the next place to visit, but where he never got to. The gardening interest is also represented by the kowhai and rose, which also represent the two countries where he spent most of his life.
John worked for the Westminster City Council where he worked as a social worker helping the poor. He also spent many hours in the swimming pool, with swimming being his main way of keeping fit.
The scenes represent the three centres where he lived most of his life, Nelson, Auckland, and London.
The short piece of music are the opening bar of Nature Boy, (by Nat King Cole), one of his favourite pieces. It also represents a strong interest in music, which saw him playing in the Salvation Army band in his younger days.
The quote in the middle of the panel above his photo is from the story of The Selfish Giant, by Oscar Wilde. This piece was also on the Order of Service for his funeral, held in Earl's Court, London.
John's father, Roy, is now living back in Nelson and made this panel with help from the friends he made in the Nelson HIV/AIDS Support Network.
---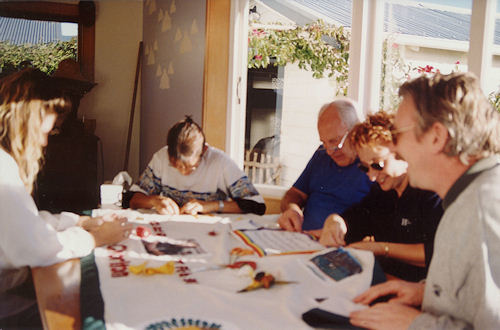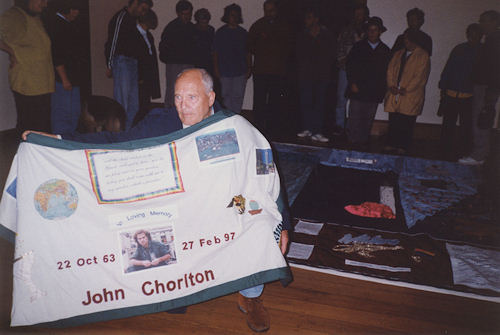 ---
Tony has this to say about John:
John came to live in my house when he first left NZ and arrived in Melbourne. I remember him very well and have always had a soft spot in my heart for him. I knew he had gone to London but have only just become aware of his passing. He was a great guy and sadly missed.
Added November 2010
Memory from Janet Nobilo
Added February 1, 2022
I was reminiscing recently, looking through old high school yearbooks and came across John and his twin Graeme and wondered what had become of them. They were lovely boys and I feel sad John has passed away. It was long ago now, of course, and it appears John lived a full life doing things he enjoyed.
Add a memory to this panel
If you wish to add your memories to this page, please get in touch.