Neil Costelloe
22 August 1960 - 8 April 1990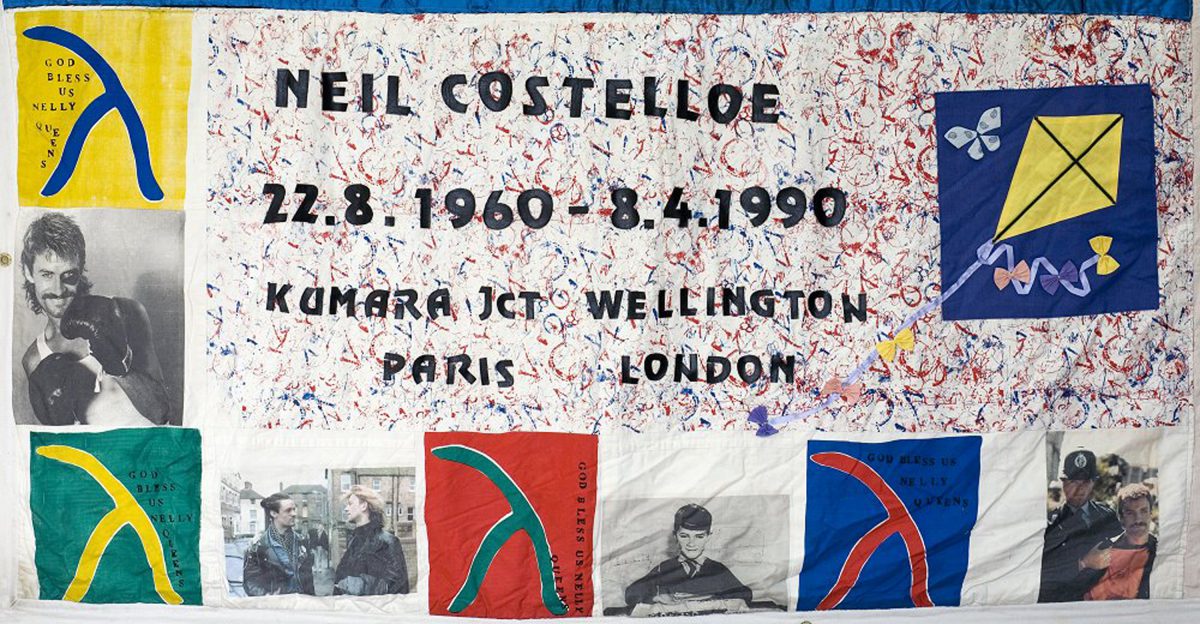 From the stories folder that accompanies The Quilt to displays:
---
For some years there was no story to accompany this panel, however Kat, one of Neil's lifelong friends, has written:
The quilt was made in 1991 by Kat Hall, Sally Hunter, Neil Anderson, Bayly Watson, Janet Dunn, Jane Costello (Neil's sister) and other anonymous friends. The idea to make this quilt came from some of us who were unable to say our goodbyes to Neil when he died in London in 1990.
The litho-screened parts of the picture include:
The male symbol background in red and blue, which Sally and Kat took off a print that Neil had made himself during his early years whilst studying graphic design at the then Wellington Polytechnic.
The four God Bless Us Nelly Queen's prints, which are taken off three larger original prints that Neil had made. The symbol is the Lamba symbol and the phrase refers to his Catholic background and his gay identity.
The photographs were organised by Bayly and refer to:
Neil with boxing gloves on the front page of the Pink Triangle magazine, which symbolises some gay bashing episodes he suffered. Neil also redesigned the logo and design format of Pink Triangle.
Neil and his partner David in London, either in 1989 or early 1990
Neil at his Primary School in Porirua, aged 8.
Neil arrested during the Homosexual Law Reform Campaign. The photograph is on his Obituary page in the Pink Triangle magazine.
An anonymous friend who used to fly kites with Neil made the kite.
The words:
Kumura Junction refers to where he was born, although, he spent some of his childhood growing up in Titahi Bay, now part of Porirua, Wellington.
Wellington, where he came out and spent his early years as a gay man.
Paris where he commuted to see his partner David.
London where he lived his life from 1987 until his death.
Leather was chosen for the words, as it symbolised the leather jackets that he wore in London.
Kat Hall
May 2012
Alison added this memory for Neil:
Neil Costelloe was one of the most important activists during the Homosexual Law Reform Campaign, 1985-1986. The NZ lesbian and gay communities owe this heroic and courageous man a great deal of gratitude. I remember Neil and Shane Towns, also lost to AIDS and other gay activists at the wonderful Pipitea Street (Wellington) house. So many actions planned there, many by Neil Costelloe.
Always remembered.
Added December 2015
Maurice added this memory for Neil:
Before Neil left for London he was very active in the community. The flat in Pipitea Street, Wellington, that he shared with so many other young gay men served as a centre of gay activism at the time. During the Gay Law Reform campaign, a group wanted to stage the first gay 'sweatshop' performance 'gay only drama' in New Zealand. Neil created the poster referencing the work of a gay designer, Keith Harring in his finished design. Martin Sherman's "Passing By" was staged at Circa Theatre in Sept 1985.
Neil's poster for it is now part of the gay archive held in the NZ National library.
Added January 2016
Memory from Rosemary
Added November 11, 2019
Neil was a school friend from Viard College. I have a lovely photo of Neil from college days and I'd like to share it with his family, but I don't know how to contact them. Do you have a contact email or phone number, please?
ADMIN NOTE – if anyone is in contact with Neil's whanau, we'd love to connect Rosemary with them to share this photo. Please leave a memory below and we'll be in touch.
Memory from Regis
Added March 12, 2021
Hey, Neil Costelloe is my uncle and I would love to show my mum the photo you have of him! please contact me back. My name is Regis Perez Costelloe.
ADMIN NOTE – we have forwarded Regis' details to Rosemary so they can share this photo. 
Add a memory to this panel
If you wish to add your memories to this page, please get in touch.