Nigel Barraud
1952 - 1992 (one week after his 40th birthday)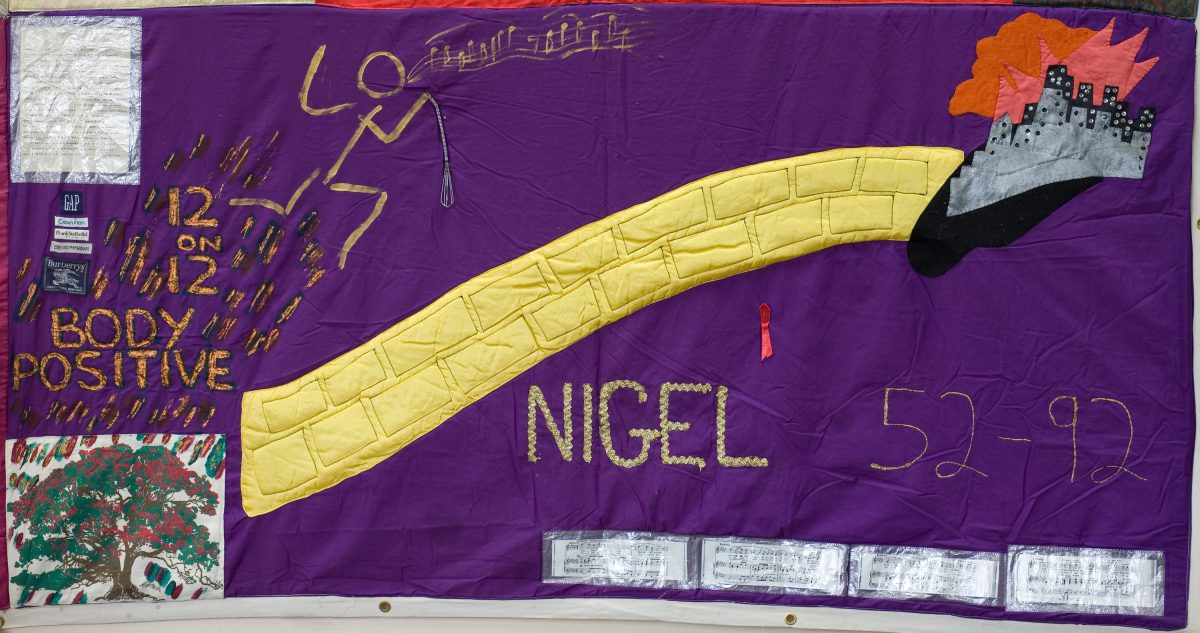 From the stories folder that accompanies The Quilt to displays:
---
From the stories folder that accompanies The Quilt to displays:
The purple background reflects the rich wonderful depth to Nigel and his passion for life and people.
He lived both in New York and New Zealand and walked 'the yellow brick road' between both.
He loved to sing and enjoyed musicals and opera. He loved to cook. Clothes with 'labels' were a passion.
The poem was written for him by his friend, Maureen.
Nigel came back to New Zealand in 1991 and immediately set about to implement the "12 on 12" programme (a peer support programme of 12 HIV positive people meeting together for 12 weeks) he had experienced in London. He worked with Joe Kelleher of the NZ AIDS Foundation (now Burnett Foundation Aotearoa) and soon the first "12 on 12" began. These early groups formed the basis from which Body Positive in Auckland grew. Nigel was too sick to attend the Opening of Body Positive but knew that his dream had been born.
The red ribbon as a symbol of HIV awareness and support had been used in the USA for several years but the use and distribution of it had not really caught on in New Zealand. Red ribbons cut from soft ribbon and inserted with a small pin were given out at Nigel's funeral and the idea took off.
Memory from Derek Williams
Added June 18, 2019
I sang with Nigel in the 1972 Auckland University Festival Choir world tour, culminating in the International Choral Festival at the Lincoln Center in New York. Our US visit included performances at the White House, the Kennedy Center and university campuses on the East Coast. The choir went on to perform in the UK at Westminster Abbey and Kings College, Cambridge, and thence to various sites in the Netherlands, Germany, and Switzerland.
The last time I met Nigel was at a reunion of the choir, which was when he informed me of his illness. It is great to see his name live on, memorialised on this quilt.
Add a memory to this panel
If you wish to add your memories to this page, please get in touch.