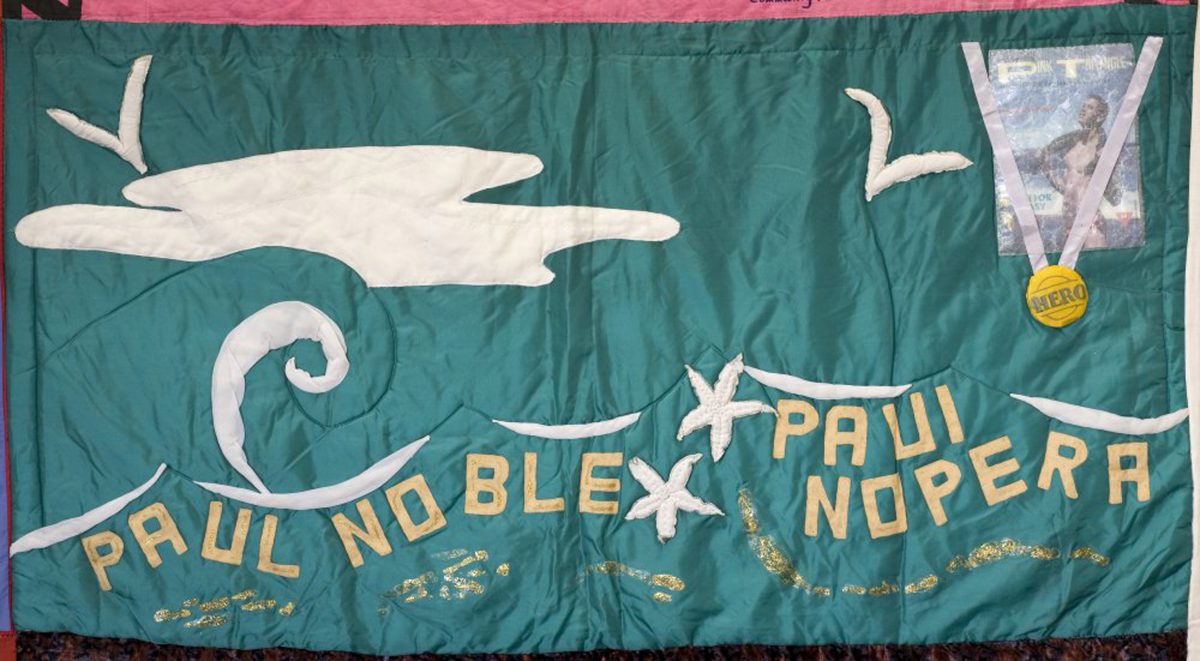 From the stories folder that accompanies The Quilt to displays:
---
This Quilt is only one of many that it's makers hope will be used to memorialise the life of Paul Noble.
Conceived by two of his friends but worked on by many people, it commemorates the part of his life he chose to spend with gay men.
The base colour of the Quilt represents the sea. Paul loved to spend time at the beach or just walking along the sand. The waves, the gulls and the starfish are all part of the environment Paul loved.
We have included the cover of a magazine which shows Paul near a Wellington beach. He was chosen to launch the first colour edition of that magazine. This picture shows him as he will be remembered by many people all over New Zealand.
The medal that covers this photo commemorates a proud moment in his life. In 1986 he won a gold medal for New Zealand in the shot put when he travelled to the 1986 Gay Games in San Francisco. The medal on the quilt has been inscribed with one word – HERO – to creatively capture their involvement in HERO.
To all of us, Paul was a gay hero and this was recognised when he was chosen to be part of the promotion for the HERO Party in Auckland in 1990.
We chose to make the letters of both of Paul's names from a material which was the colour of the earth. Whatever people may have told of him, whatever magazines may have featured his handsome face and beautiful body, Paul always had his feet firmly planted on the ground.
Both of Paul's names have been included on the quilt. (Editor note: Puai is misspelled on the quilt)
He was born Puai Nopera but chose the name Paul Noble for himself. This was part of his life as a gay man and we have recognised the difference with a little glitter.
Paul was a man so sure of himself that a little glitter never bothered him.
Rick has this to say about Paul:
I was shocked when I saw this after running across your name in a magazine. I had forgotten your name.
I also competed in the 1986 Gay Games in Track and Field.
We became buddies.
I was very impressed with you.
I had never met a Maori before. You were so cool.
RIP buddy.
Added October 2017
Rick also added a new page for Ricky Valdez who also knew Paul.
Memory from Tekiri
Added April 25, 2020
May Paul RIP
Such an awesome friend


Memory from Hazel
Added March 9, 2020
Paul was definitely a beautiful man. I spent five months with him in Mt Vic. I was honoured to have been given the experience to live in the gay community with him and his partner Phil in exchange for them to experience childbirth. Three days full-on labour with two gay guys -they made me laugh so much. It's a memory I'll never forget, the proud uncles they were. RIP my brother, missing you always
Add a memory to this panel
If you wish to add your memories to this page, please get in touch.