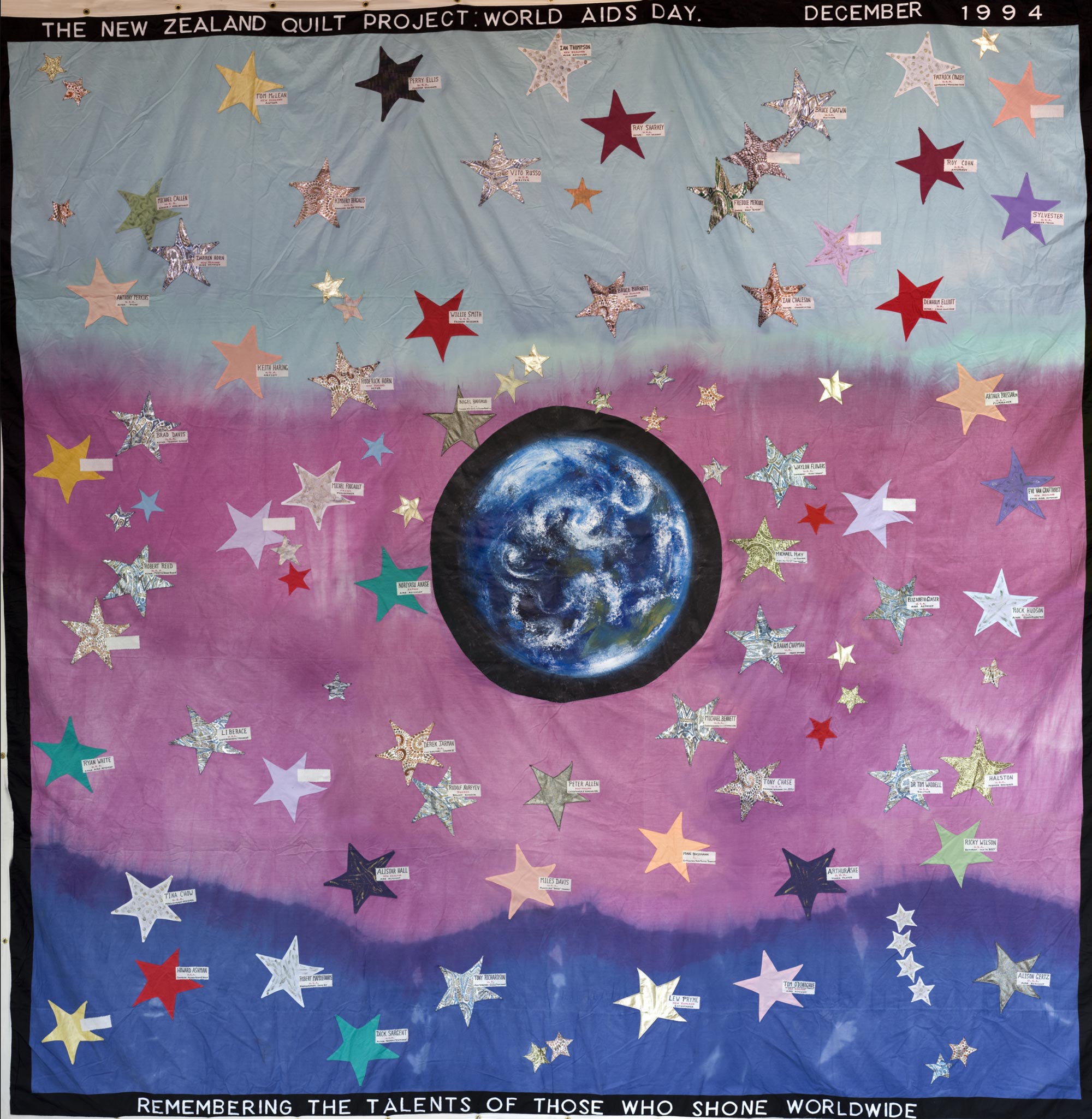 Block image is made up of images of the individual panels placed in their correct position on the block, so seams, edges etc. may not line up correctly.
This block was designed and made by The New Zealand AIDS Memorial Quilt Project committee to answer the question, "But who do I know that has died of AIDS?" to mark World AIDS Day, December 1st 1994.
A list was made up of well-known people from within New Zealand and around the world who were known to have died as a result of AIDS, and their names were printed on The Quilt along side a star. Some stars are left blank for others to be added at some future time.
The full list of people below, is repeated after the photo of the block (in alphabetical order of last name), with their individual stars at a larger size to read more clearly, along with an indication of where their names appear on the block. People remembered on this block include:
From the Film and Performing Arts industries
Anthony Perkins
Arthur Bressan Jnr
Brad Davis
Bruce Chatwin
Denholm Elliott
Derek Jarman
Dick Sargent
Freddy Mercury
Graham Chapman
Ian Charleson
Lew Pryme
Liberace
Michael Bennett
Michael Callen
Miles Davis
Patrick Cowley
Peter Allen
Ray Sharkey
Ricky Wilson
Robert Reed
Rock Hudson
Roderick Horn
Rudolph Nureyev
Sylvester
Tony Richardson
Howard Ashman (Composer)
Fashion Designers
Halston
Perry Ellis
Tina Chow
Tony Chase
Willie Smith
Keith Harring (Artist)
Writers
Tom Mclean
Vito Russo
Robert Maplethorpe (Photographer)
Michael Foulcault (Philosopher)
Roy Cohn (Attorney)
Arthur Ashe (Tennis Player)
Dr. Tom Waddell (Doctor and Athlete)
Child AIDS Activists
Eve Van Grafhorst
Ryan White
AIDS Activists
Alison Gertz
Alistar Hall
Bruce Burnett
Darren Horn
Elizabeth Glaser
Ian Thompson
Kimberly Bergalis
Michael Hay
Nigel Barraud
Noriyasu Akase
Tom O'Donoghue
Marc Bensemann (Journalist)
Other photos of this block
| Panel Name | Life Years | Panel Link |
| --- | --- | --- |