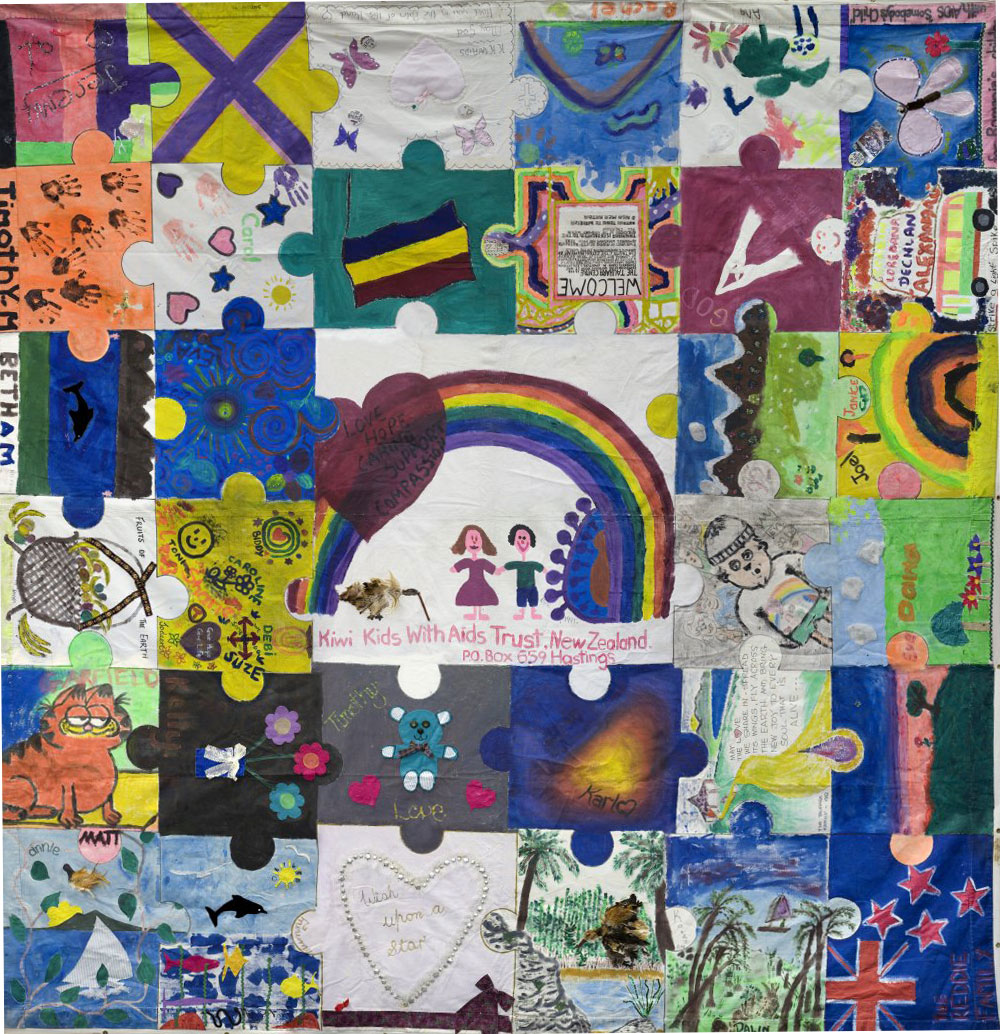 Block image is made up of images of the individual panels placed in their correct position on the block, so seams, edges etc. may not line up correctly.
This entire block was created at a camp in December 1992 by 13 families with children who are living with HIV.
Created in the form of a puzzle, each 'piece' holds a special message.
A 2-page spread (see images below) in a weekly New Zealand magazine was published shortly after the block was created. It has faded due to light.
Below is the text from the article:
---
Camp Courage: Kids Coping with AIDS
From New Idea 30/01/93, by Andree James
The agony of suffering in silence was lifted for HIV infected children and their families at a special camp last month.
Tears flowed and powerful emotions were released as, for the first time, youngsters who have had to keep their fears and frustrations bottled up were able to share their experiences.
Organised by Gloria Taylor, mother of AIDS survivor Eve van Grafhorst and president of the Kiwi Kids With AIDS Trust, the camp brought together from across New Zealand 13 families with children who have HIV or AIDS.
Gloria says her aim was to break down the isolation and loneliness experienced by affected children and their families.
The peaceful Tauhara Centre at Lake Taupo provided sanctuary for the youngsters and their parents. During the week, parents and children painted pictures for a Quilt and celebrated Christmas with a special party. They went for nature walks and simply spent time on holiday. Three masseurs worked around the clock on parents and children.
Gloria says simply' "There is so much love in these families. We can go a long way with it if we want to."
A team of volunteer – many training to be teachers – helped care for the children, giving some parents their first break from care of their children since the virus was diagnosed.
Mothers and fathers talked of the anomalies they find in health services and medical advice, the lack of knowledge about the virus in health professionals and of the difficulties their children face. They also shared their personal grief.
Children enjoyed time with the only playmates who can really understand what it is like living with HIV and AIDS. Older children helped the younger ones make kites and get them off the ground. They were free from the constraints of the secret they live with day by day.
Teenager James asked' "Why should we go public? No one knows what this is like for us. I'm only young but I don't know what is going to happen. I try to stay positive but it's hard to do alone. That's why it's good to come here.
At least at camp we can talk to each other. Normally, the only people I can talk to are my family and the doctors."
Other young people were worried about the likelihood of more suffering. "I try to get on with life," said one, "but this is always on my mind. Sometimes I forget about having the virus … but it always comes back."
John, whose son is infected with the virus, said, "It doesn't matter how you got HIV. The really important thing is that you have it and it is not going to go away.
"There is still a dominant ideology that if you HIV or AIDS you are a dirty person. As long as people think this, the problem is only going to get worse.
"One of the most positive things about this camp is to alert people that there are not just individuals in New Zealand with HIV/AIDS but groups of people."
Katrina Miller has lived with the diagnosis of the virus in her 13 year old son Jeremy for the past three years. Jeremy has since developed AIDS and his condition has deteriorated during the past year as he suffered bouts of pneumonia. Jeremy is a haemophiliac and the virus has been further complicated by hepatitis C.
Living with the virus is "a hell of a burden" to carry by yourself, Katrina said. "At least for those who can't tell family, this camp lets them share within the group and know it won't go any further.
"It's like cancer or leukaemia. This is real and it is not going to go away."
The family decided to go public a year ago. Katrina is buoyed by the strength, dedication and humour of her son. "He tells everyone quite blatantly. It doesn't frighten him,."
Robert and Edith have two teenage sons with haemophilia, one of whom has contracted the virus. "We don't have our son's support to go public," said Robert, "although personally, I wanted to go public right at the beginning."
When the family did not hear back within a month of the boys being tested for HIV, they assumed the results were negative. In fact it was 18 months before they were given the result, and then it was while Robert was out of the country. Edith had to cope with the devastating news alone for 10 days until Robert was able to return.
The families are profoundly grateful to the public of New Zealand whose donations helped make the camp possible.
"There is a lot of support out there and we need it badly," Robert said. He and other parents praised Gloria Taylor's vision and work. "I wonder if she really knows what she has done for us."
Gloria responded, "That was the goal. We are all the same. All in the same boat."
Other photos of this block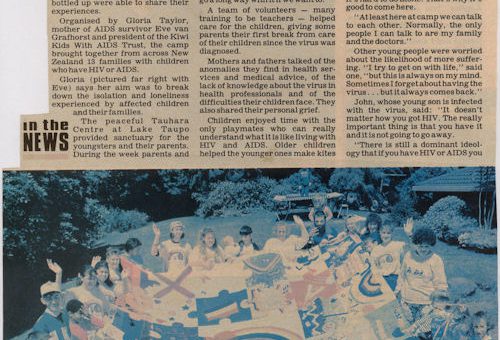 This 2 page spread in a weekly New Zealand magazine was published shortly after the block was created. It has faded due to light.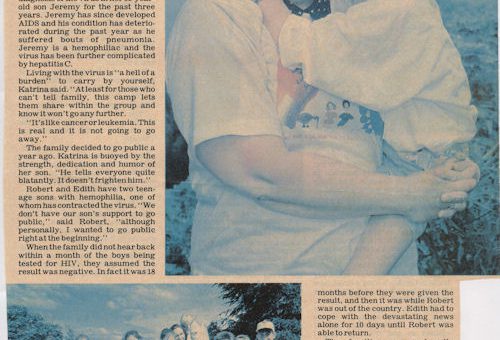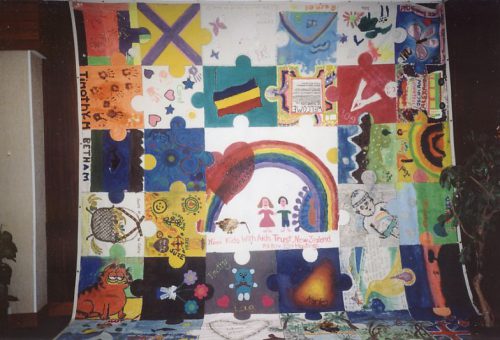 | Panel Name | Life Years | Panel Link |
| --- | --- | --- |