Thomas (Tom) Blair McLean
June 1949 - 24 March 1989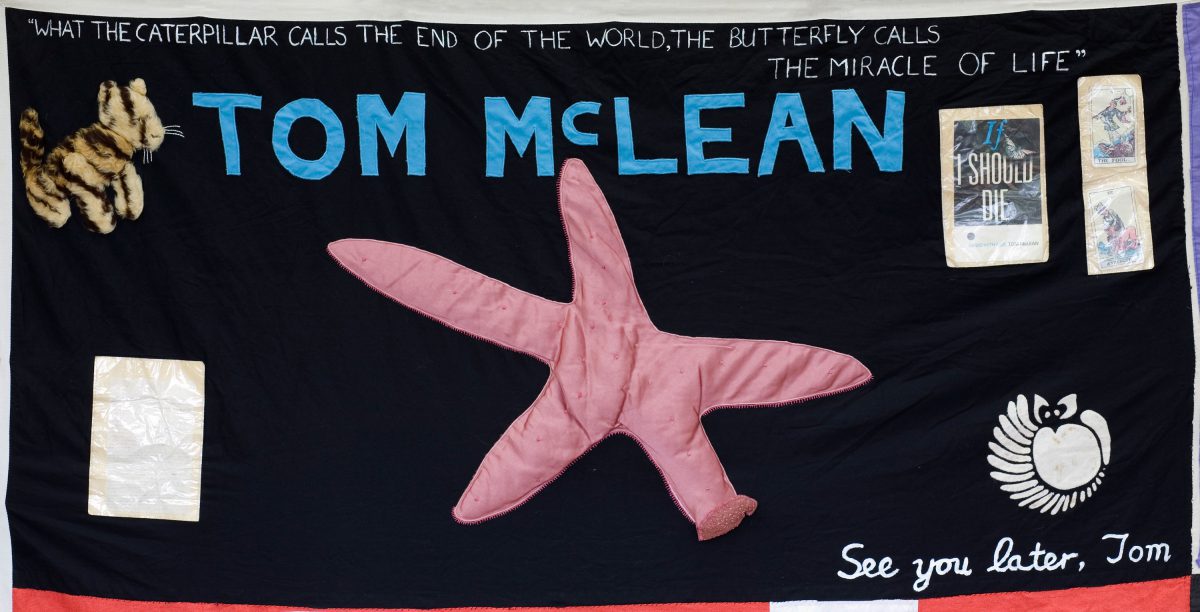 From the stories folder that accompanies The Quilt to displays:
---
Tom was a Scottish journalist who lived in New Zealand from 1973 until his death. Living in Wellington he was best known as the tarot card reader at Wakefield market.
Told that he might have only nine months to live, Tom decided to make the most of whatever was left to him – and he took up flying.
Tom is the author of the book If I Should Die, the story of his journey with HIV and AIDS; not only of his fight against HIV but also of his battle against the bigotry and prejudice that stopped him flying and almost drove him out of business. It is not a story about dying. It is a story about living.
"Remember my story about the garden. It's spring. You hold a tiny kitten in your hand and tell me how each form of life, no matter how small, is part of life itself, struggling to see its part in the plan, and is to be loved and respected.
We talked about death and I said, 'What the caterpillar calls the end of the world, the butterfly calls the miracle of birth.'
…When we understand space and time, we'll know that in infinity all we have is here and now. And sometimes in the here and now, you'll turn a corner to find a little garden. We'll sit down together under a spring sun, and watch the kitten and the caterpillar. And I'll tell you again about the butterflies.
See you later."
Excerpt from If I Should Die
Memory from Hugh
Added March 25, 2019
I have a photograph of the other quiltmakers showing off the quilt just after we finished it, and a sheet I wrote about Tom and the meaning of the quilt, fully referenced. You may already have it.
Add a memory to this panel
If you wish to add your memories to this page, please get in touch.