Arthur Robert Tauhore
7 October 1958 - 28 November 1993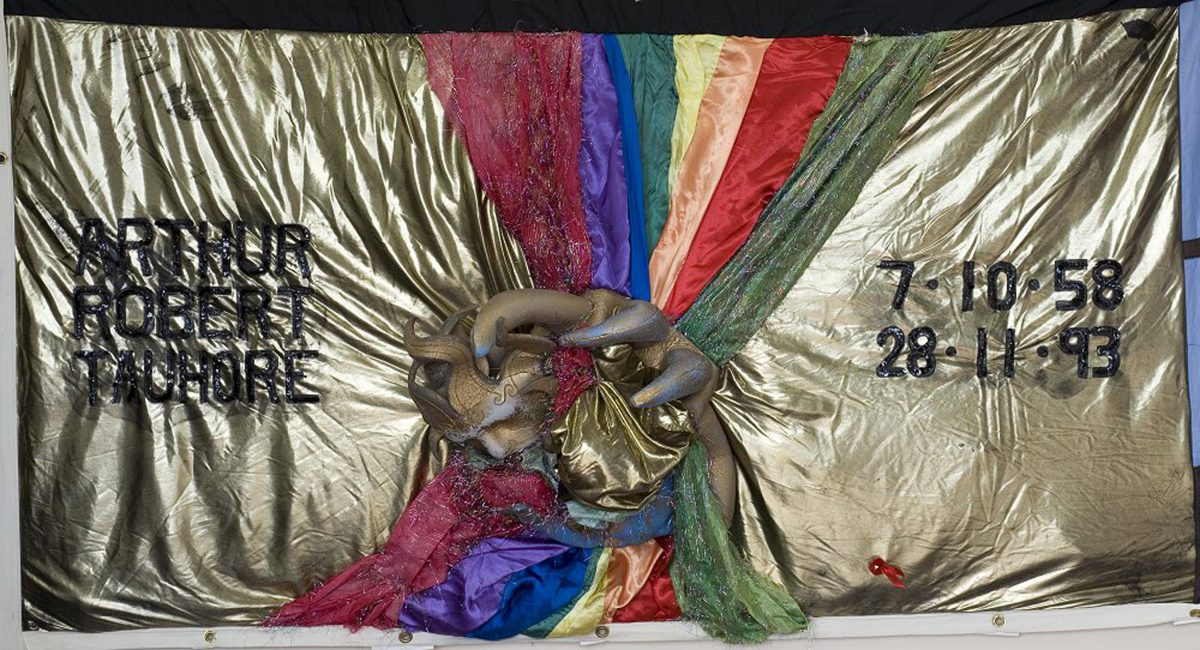 From the stories folder that accompanies The Quilt to displays:
---
We have the following excerpts from an obituary written for Arthur by Anne Hogan:
To hundreds of people he was known simply as Arthur – a flamboyant, beautiful boy who made his mark on the Wellington scene for more than 15 years as a hairdresser, drag artist, singer, committed party animal and lover of life.
HIV positive for 10 years, Arthur succumbed to AIDS at home…on Sunday, November 28. He was 35. As usual, his timing was impeccable. It was the night of the gay dance party Devotion. His funeral was held on December 1st – World AIDS Day.
… Although he was ill off and on for a year, Arthur did manage to perform at last year's Devotion party with his usual panache.
His early life was not so much fun but still full of drama.
His father, a Ngati Porou, brought up the five children at Titahi Bay after their mother left. At eight, Arthur was made a ward of the State and spent time in and out of several boys' homes. At 16, he was expelled from Mana College for dealing drugs. The same year he entered into his first homosexual relationship. He mixed with Black Power, frequented the infamous Bistro Bar and injected heroin, a habit he gave up after the price went up and a boyfriend died from an overdose.
Fifteen years ago, Arthur took up hairdressing, an occupation of which he said: "I love it. For one thing, you have clean nails at the end of the day."
He sang in bands including Urban Dwellers and Trash and, with three friends, toured the country in a drag show called Bertha and the Transisters.
A friend, Andre, summed up his life in the death notices with the following eulogy: "With a laugh as wicked and wild as the stories you told. Never be afraid to be yourself. Your spirit and soul will always be here."
Memory from Robert
Added December 1, 2021
I knew Arthur in Wellington.
A man as memorable as Bowie, my heart still bleeds.
His love is Unique.
He is my Friend & Whānau.
I could say more……………………….
Memory from Wallace
Added September 22, 2021
Kia ora
Just writing in regards to the late Arthur, I randomly wrote my last name in Google and up this link popped.
I'm only 26 so never knew him but I'm just left in wonder as to the significance of his self that an article would be made up, it actually amazed me and was a good little read.
Yes, we hail from ngati porou, and yes a lot of us tauhore lived in porirua, titahi bay but I've never heard his name before which now has me researching annoying all my aunts and uncles.
Memory from Maria
Added April 16, 2020
I was lucky enough to work with Arthur at Hair Associates. He was amazing and I loved him so much. He attended my 21st birthday which was fantastic. I am now 52 and I still think of him often and I still miss him. He had a massive impact on my life.
Memory from Christopher
Added February 8, 2021
I knew Arthur when I was living in Whanganui-a-tara / Wellington during 88/89. He used to cut my hair. He was a lovely man, with a gentle soul, and a cheeky laugh.
Memory from Charles
Added August 15, 2022
I met Arthur at Banana's in 1984. He was irrepressible, effervescent, ridiculously talented and out of control. Ideas and laughter just radiated out of him in all directions. His mere presence at a party decreed it would be one worth staying at! I wept at the news of his death and to this day that beacon he was still burns bright.
Rest In Peace, dear Arthur
Memory from Yvonne
Added May 15, 2022
Arthur was my cousin, we lived in Elsden (by Mana school), and visited the whānau all the time, before moving to Gisborne. We were very close growing up, his dad, uncle Bob, was my mum's cousin. His sister Wini and I were close. I had often thought of them and was happy for Arthur when he found hairdressing. I miss my little cousin. RIP Arthur.
Add a memory to this panel
If you wish to add your memories to this page, please get in touch.